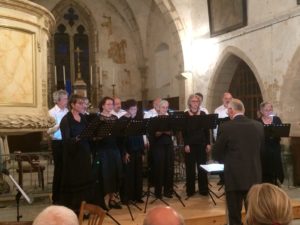 Superbe concert le 15 juillet avec l'ensemble vocal de la Chartreuse de Bonlieu. De nombreux spectateurs ont choisi ce moment musical, en cette soirée de liesse populaire pour fêter la victoire de la France à la Coupe du Monde. Qu'ils en soient remerciés.
Pour ce concert de musique baroque, le maître de choeur Jean Paul Montagnier Officier de l'Ordre des Arts et des Lettres, professeur à l'Universités de Lorraine (Nancy) et pour l'année 2018-2019, « Visiting Distinguished Professor at the University of Oregon School of Music and Dance ». a présenté en quelques mots l'histoire de chaque musicien avant chaque morceau, nous faisant ainsi partager son érudition sur les musiciens de l'époque baroque .
Cette soirée fut l'occasion de découvrir toute la richesse de la musique du XVIIIème siècle avec des œuvres de Jean-Louis Bordier, Jacques Fargeonnel, Joseph Bodin de Boismortier, François Giroust, Pierre Bouteiller, Giovanni Bordi, Marc-Antoine Charpentier, Jean-François Lalouette …
Ce concert a été organisé au profit de la restauration de l'église et l'Amive remercie l'Ensemble vocal des Chœurs de Bonlieu de ce concert de haute qualité et plus particulièrement Fabienne Géry, du bureau de l'AMIVE et membre de ce chœur.